Former CSU students and college friends of 13 years, Maryann Webb (mother and primary school teacher) and Ali Robinson (mother and lecturer/former student of St Mark's National Theological Centre), along with several volunteers, have founded an Australian charity with a vision to see children and communities in need educated, empowered, and equipped through the gifting of 'Play and Learn' packs.
In late 2015, Maryann had an idea – make dolls for children in need. Though simple, she knew the impact would be more profound than just gifting a toy. As she looked around, she noticed that her own children had so much and yet there were children in her very own community who did not have access to the same beautiful resources. So, she began sewing.
As she shared her vision with other women (Ali included), this small idea started to gain momentum. They, too, dreamed of a world where all children felt valued and were given the opportunity to play and learn. Ali, with experience in children's ministry and after completing her PhD in New Testament Studies, instantly began to dream of ways to share the gospel with these children. Ali has a love for teaching the bible, training young people and using creative methods to explore the gospel. Drawing on these skills she has helped develop the books and ministry resources now used by Project KIN.
With funding won from an Anglican Deaconess Ministries grant in 2016, the Project KIN Play and Learn packs were born. These packs contain a handmade doll, a  beautifully-illustrated storybook, an activity pack, educational resources, and guides for caretakers on providing their child with an engaging and personal educational experience.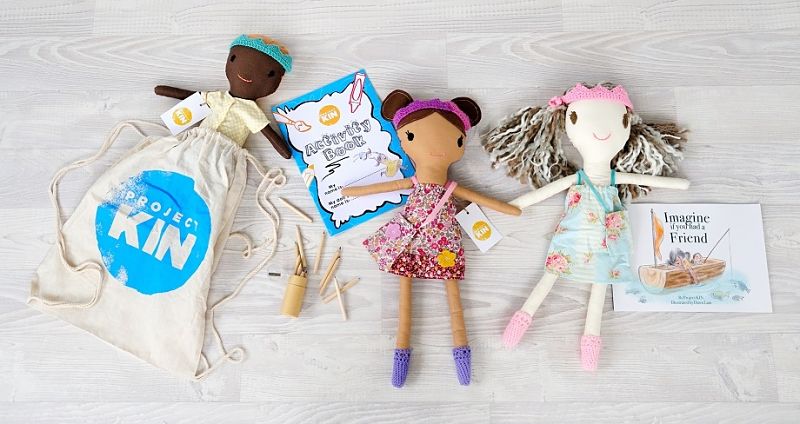 Project KIN is completely powered by volunteers, primarily women who are becoming instruments of change in their own community – local hands for future change.
There are currently 200 active volunteers 'sewing' into the project. Each of these volunteers has played a special role in the Project KIN journey. One volunteer shared her childhood story of how a doll that she received one Christmas, while living in an orphanage, brought her great comfort, 'I clung to that doll, it made such a difference to have something that was mine. I loved her with all my heart!' (Sue). The day she finally left the orphanage, however, she was forced to leave the doll behind, 'I cried and cried, they dragged me out and still wouldn't let me have my doll'. A grief and pain remained for many years, but 'when I started making cloth dolls for Project KIN, something magical began to happen. I remembered the joy, happiness and a feeling of safety that my doll brought to my life, at that very difficult time. Such is the power a doll can have in a young child's life'.
Each Project KIN doll is a handmade one-of-a-kind doll, offering each child a special companion created and clothed just for them. At the heart of the project, says Ali, 'we want children to know that like this doll, which was specially made for them, they have been specially made by God'. Our accompanying resources teach the gospel and point children and families back to the Christian message because we want children to know that they have a Creator who loves and cares for them.
We have now gained the support of Anglican Aid, Wesley Mission, and Anglicare in bringing this mission to life. Our packs have already started going out to communities around NSW as well as an orphanage in Uganda. 171 packs have been distributed to supported community playgroups and reading groups where children have little access to such resources. Many of these children live in difficult financial circumstances, have fled from domestic violence, or are seeking refuge. Children are delighted by their gifts and we are seeing a positive impact in these communities. With the help of established aid organisations, facilitators are working closely alongside these families. One facilitator shared that some of the children in their group had never sat still before, but when they received their Project KIN doll they were completely changed, 'focused and settled'. Parents and carers have also been encouraged by the children's engagement with the storybook, saying that reading has now become 'fun and enjoyable'. We have a vision to see 200 packs go out by the end of 2017 and an additional 300 by the end of 2018.
We are calling for volunteers – people to 'sew' into the Project KIN vision. And we are seeking sponsors – people to support this small idea by funding a pack from just $48. Join us as we watch God help make this small idea into a powerful and exciting reality.
Visit our website at projectkin.org and sponsor a pack today.