Anglican Diocesan Services
On Tuesday 24 March ADS and Anglicare staff still working from 221 London Circuit gathered – outside to ensure physical distancing requirements were observed – for a time of prayer and a reading from Psalm 121 as they prepared to move into remote work mode.
Staff were encouraged by Bishop Mark to take an item from the workplace home with them as a symbol of hope, a reminder that although tough days are here better days will return.
The ADS office is now closed and all staff are working remotely with remote access capability. The ADS has a Business Continuity Plan in place and staff are keeping connected via Zoom meetings and other modes as we continue to serve and support our ministry units and agencies throughout this challenging time. Telephone numbers from the 221 London Circuit office have been diverted to the relevant staff who can be contacted via the usual means.
More broadly the ADS response to the COVID-19 pandemic has included:
Monitoring public health advice and developing resources to assist ministry units.
Assisting ministry units and agencies to navigate the various risk considerations in relation to the COVID-19 pandemic.
The ADS has been working to model the financial impacts the COVID-19 Pandemic is having across the Diocese for:
– Ministry units;
– Diocesan Schools;
– Anglicare;
– AIDF;
– ADS; and
– Other agencies.
Facilitating Diocesan financial support strategies.
Reviewing the various recent Government stimulus announcements, specifically the Boosting Cash Flow for employers and JobKeeper payment. The ADS is working closely with our ministry units and agencies in regard to accessing this funding.
Developing a set of principles to guide the provision of assistance over the longer term.
St Saviour's Cathedral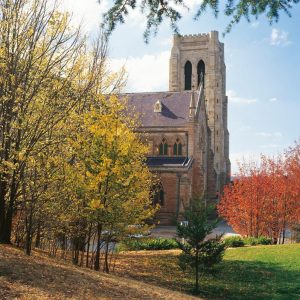 The suspension of Services has caused significant grief and distress to us all. I am sure that our parishes are involved in similar activities according to their own situation. Here are some of the simple actions we are taking at the Cathedral in the face of this once-in-a-century crisis:
Our expanded weekly Pewsheet with the Sunday readings, sermon and intercessions are sent by email each week – and for those without internet a team of parishioners deliver a hard copy to their mailbox.
We are using the phone to keep in touch with parish community members.
We update our website update regularly with news and items of interest, as well as the weekly mail out. For Palm Sunday we also sent out blessed palm crosses with our expanded pewsheet.
Our Facebook site https://www.facebook.com/Goulburncathedral/ will also be updated regularly.
We upload weekly services which can be accessed through the cathedral site, and for Holy Week and Easter there will be several services, hopefully with bishops preaching from afar!
We have downloaded Zoom and are getting used to the idea of using it for online meetings.
The current circumstances definitely mean some upskilling in online expertise for all of us.
In the Gospel reading for the Fifth Sunday in Lent (John 9.1-41) Jesus speaks about being the light of the world.
May his light guide us in this time of darkness and fear and may his Spirit strengthen us to meet the challenges of this hour.
by Dean Phillip Saunders
Good Shepherd Anglican, Curtin
Good Shepherd Anglican is one of the larger city churches, fortunate to have skills and resources in the congregation to rapidly make changes in response to the church closures. Some things they have been doing:
A team of less than 10 people livestreaming a Sunday service from the church with a view to making the experience as engaging as possible for people who are watching on their computers/TV screens at home.
Twice weekly short video presentations by clergy team.
Gathering a team of Good Shepherd members who are willing to offer help and support to those who might need it.
Inviting requests for help and support from church members and the general public through our website.
Dropping off playgroup craft kits to the homes of our playgroup families.
Organising systematic regular phone calls to members who would otherwise be isolated.
Working with neighbouring Uniting Church and Canberra Relief Network to be a distribution centre for food hampers for families experiencing disadvantage due to COVID 19.
Encouraging all small groups to stay connected and meet online through Zoom.
Planning for online video interviews with Good Shepherd members.
Making the most of the church facebook site to stay connected and encouraged.
from Reverend Guy Matthews
St John's Anglican Church, Boorowa
St John's in Boorowa is a rural parish. Reverend Robert Linbeck, who is currently a retired locum in the parish, writes:
'I have been going out to Boorowa every Sunday for the past 18 months doing one service each Sunday. We have a mixture of people on email and some elderly who aren't.
We have decided that I will produce a service each Sunday following the service of Sunday Morning (Page 383) of the Prayer Book. Some will receive it by email and for those who can't the wardens will print a hard copy and drop it in their mail box.
I am hoping that parishioners will follow the service in their homes at 9.30am each Sunday. These services commenced on Palm Sunday. I will have a service planned for Good Friday and Easter day and every Sunday following. I will also send Bishop Mark's reflection each week.
For pastoral Care we are setting up a roster for ringing up parishioners on a regular basis. Some thought we can also go back to the old way of communication – writing letters and cards.
Most of our income is by offertory each Sunday so the Parish Council will work out a plan for how we will continue to receive the parishioners' Sunday giving.'
Anglicare NSW South, NSW West, ACT
Anglicare teams have responded to the challenges of the pandemic in the following ways, from CEO Jeremy Halcrow:
 Infection control workshops: We have now gone live with the nurseled infection control training for staff via zoom, combining the clinical expertise of our Junction nurses together with training expertise of our Workforce Development Unit and the input of staff from across a range of our frontline services.
More protective supplies have arrived! Pictured above is the Cowper St, Goulburn, reception set up ready for the pandemic with a standing hand sanitiser dispenser. We have been able to source four of these dispensers and they are being distributed to service locations which are supporting clients living rough or at risk of homelessness.
Toilet paper for those in need: Our emergency relief services across all regions have been hit by a lack of supply of essential non-perishable groceries due to panic buying. They have been able to secure five pallets of donated toilet rolls from Quilton, to be distributed across the region, and are hopeful of finding a solution for the supply of tinned food and other staples. There have also been donations of urgently toiletry/sanitary items in partnership with Good360 and ongoing donations of food and toiletry items through Canberra Girls Grammar School and Burgmann Anglican School.
Continuing intergenerational connection: A number of Anglicare ECEC services have been engaged in connection between young children and residents of aged care facilities for some time. Sadly these visits have had to cease due to the pandemic. However Anglicare ECECs are continuing this vision through our Art for Aged Care project where the children paint pictures for older people in lockdown or self-isolation.
There are many encouraging stories of assistance provided by St John's care also.