Being peacemakers – from a Gospel lens. Followed by a Q&A panel about Mothers' Union and Anglicare services
Ministry can contain many questions. For example, when is conflict in ministry healthy, and when is it not? How do we do ministry and grow ministry when everything is complicated? How can we resolve conflict well for God's glory? How can we make good decisions during difficult times? How and when can we be peacemakers? How can we show God's grace when things are hard? Who can help? Together, we will spend a day exploring the complexities of navigating ministry as a spouse. We will listen to each other and, with gentleness, share each other's burdens. We will ground ourselves in Biblical truths and remember what Jesus said regarding loving God and loving our neighbours. Further, we will explore sociological and social work ideas about healthy relationships, empowering others and self-care.
Saturday 25th September 10am to 3.30pm.
Speakers: Chaplain and social worker Janice Ackland, pastoral care worker James Ackland, President of Mother's Union Joan Eberle, The Reverend Sarah Plummer from Anglicare, Bishop Stephen Pickard from ACC&C, Bishop Mark Short and Dr Monica Short
Cost: Free. A huge thank you to the wonderful Mother's Union for catering for us. You are a blessing.
Venue: Australian Centre of Christianity and Culture
Online registration: https://forms.gle/7ZBVVAqBCFrX2YAS7
Meet the speakers for the Workshop: Growing kindness and goodness in community. Being peacemakers – from a Gospel lens. The speakers are cheering for you – as we all journey ministry together.
Janice and James Ackland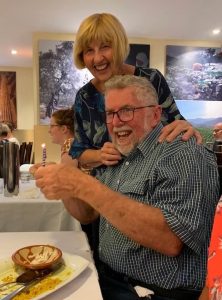 Janice and James are currently living on the South Coast at Bawley Point, having moved there in mid-2020 so Janice could take up the role of a Bush Fire Recovery Pastoral Care Worker in Moruya with Anglicare.  Prior to this, she had worked in Aged Care Chaplaincy with Anglican Retirement Villages and then as Chaplain to staff for Bush Church Aid.  Janice is also a Social Worker with many years of experience in hospital social work, community work and private practice, as well as in Field Work education with Charles Sturt University.
James retired two years ago from his long career as an Industrial Chemist in the printing industry, managing a company that made specialised chemistry involved in the printing process of what has now virtually become obsolete, our daily newspapers.
They have been married for 43 years and have three children and eight grandchildren. They are committed Christians and have been involved together over the years with church ministry as well as para-church ministries, in particular Kairos Prison Ministry.  James has served as Churchwarden, Synod Rep and Bible Study Leader. Over many years of experiencing the challenges of raising a family, being in ministry, and involved in leadership positions, they yearn to live out the Gospel imperative to be peacemakers and encourage others to seek a peaceful resolution to conflicts.
Joan Eberlé, President of Mothers' Union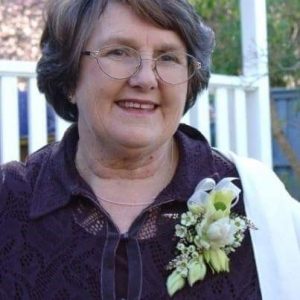 I went to Armidale Teacher's College in 1961-2 where I met Alan.  We were married at St Peter's Cathedral and had four children.  Katie, Matthew, and the twins Fleur and Sarah. We have 6 grandchildren. Alan was a School Principal for almost 40 years, and I graduated from Mitchell University with a Special Education degree, working with special needs students for over 25 years. I became involved with Mothers Union in Finley (Tocumwal Branch in 1981) and, when I retired from my teaching career became the President of Bowral Branch, which was then the largest Branch in the Sydney Diocese with over 70 members. I also served on the Sydney Diocesan Executive for six years as Prayer and Spirituality Coordinator. Alan and I moved to Canberra in December 2016 as all his specialists are in the ACT, and our three daughters also live here.  I was delighted to find Hackett Branch and the lovely members who have welcomed me into their group with love and kindness. It is a privilege to serve the Anglican Mothers' Union Australia as Diocesan President serving our Diocese and our worldwide organisation, winning the hearts of our nation through prayer, love of one another and sharing our faith with families.
The Reverend Sarah Plummer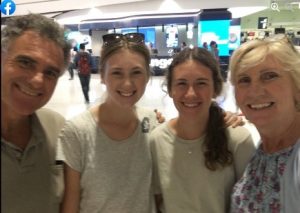 Sarah is Anglicare's Director of Mission and Culture. Sarah enjoys meeting people and hearing their stories. She loves discovering ways communities can flourish together so that the most vulnerable have evidence of Christ's living hope and goodness. Sarah has been working in Anglican Churches since 1989 and grew up as a preacher's kid. Sarah is married to Craig and the mother of two young adult daughters Anastasia and Kalista.
Previously Sarah was the first woman to be a Senior Chaplain with the NSW Police Force in partnership with Anglicare Sydney. Her role saw her responsible for caring for those serving on the frontline, including members of the specialist commands such as the counter-terrorism unit, marine unit and PolAir (Police Airwing). Sarah says she has 'loved the adventure of Chaplaincy in schools, emergency services and aged care. One of the greatest privileges I have ever had is working as the Director for Prayer Ministries at World Vision International. I travelled to many countries around the world and enjoyed the incredible diversity of the Christian Church.'
Bishop Stephen Pickard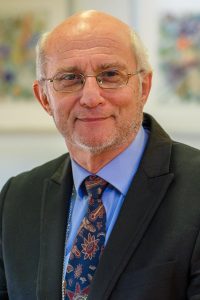 Professor Pickard was Head of Charles Sturt University's School of Theology from 1998 to 2006. Since then he has served as an Anglican Bishop in the Archdiocese of Adelaide, Visiting Fellow Ripon Theological College, Cuddesdon, Oxford; Acting CEO Anglicare Canberra & Goulburn and as a priest in a Canberra parish. He is currently an Assistant Bishop in the Canberra-Goulburn Diocese and is the author of several books, including Seeking the Church: An introduction to Ecclesiology (2012) and In-Between God: Theology, Community and Discipleship (2011). Professor Pickard was appointed Executive Director of the Australian Centre for Christianity and Culture and Professor of Theology at Charles Sturt University in September 2013.
Bishop Mark Short and Dr Monica Short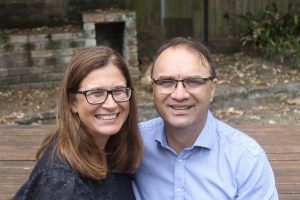 Mark is the Bishop of the Anglican Diocese of Canberra and Goulburn. He is passionate about equipping churches and other ministries to share the love and truth of Jesus with a diverse and sometimes divided world. He has a PhD from Durham University looking at how Scripture and practice combine to shape the memory and life of God's people.
Monica is excited about being a Christian and a member of the Anglican Church of Australia. She works as a social worker and social science lecturer at Charles Sturt University. An integrated lens based in social work, sociological and theological thinking informs Monica's various research and writing activities into the Anglican church, different social work fields, and ethics and resilience.
Mark and Monica enjoy bushwalking, biking, riding, reading, watching train shows, and speaking and writing together, such as Short, Mark, & Short, Monica. (2019). Relocating in Christ: Churches and migration in rural Australia. In Reimagining home: Understanding, reconciling and engaging with God's stories together (pp. 77-96). Macquarie Park, Sydney: Morling Press.