Kids' Talks with Colin is a special new video series featuring short talks, Bible readings, prayers and of course, music!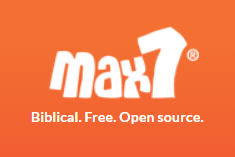 Max 7 – Max7 is a library of free ministry resources for children, youth and families.
Max7 at HOME – This is the place to find fantastic resources for families in quarantine with children. While everyone around the world faces the challenges of COVID19, we need to nurture life and faith.
Children's Ministry Network ACT Region Facebook Group
Family Fit – Family, Fitness, Faith, Fun.
The Bible Society is also sharing some helpful resources for children and youth.
Resources from the Diocese
Matthew 16:13-28 – Resources for 16 August
Matthew 15:30 – Resources for 2 August
Matthew 15 – Resources for 26 July
Psalm 2 – Resources for 12 July
Psalm 1 – Resources for 5 July
Paul's Shipwreck – Resources for 28 June
Paul and Felix – Resources for 21 June
Paul's Journey – Resources for 14 June
Jesus is the Good Shepherd – Resources for 31 May
Paul and Silas in Prison – Resources for 17 May
No Difference Between People – Resources for 10 May
Jesus Forgives Peter – Resources for 26 April
The Big Catch of Fish – Resources for 19 April
(Note: Many of these below are designed to be printed as a booklet)
What is a Christian Children's Activity Booklet
What is the Bible
The First Easter Booklet
A Daring Rescue Booklet
The All Powerful Rescuer