Beloved in Christ,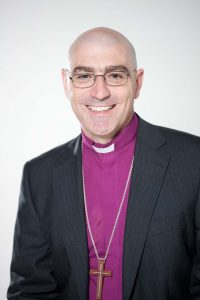 Warmest greetings from myself and Jane!
This will be my last piece in Anglican News as Bishop Trevor will effectively be at the helm when the March edition arrives.
The most frequent question(s) we've been asked of late is, 'why are you retiring and what have been the highlights?'. Let me attempt a short answer:
I was afforded the very high privilege of being elected to lead this See in November 2008. We moved to Canberra in the new year and began the process of engaging with God's people across this vast and great diocese. The Bishop of Canberra and Goulburn has pastoral responsibility for around 20,000 people. They are connected with our churches, schools, Anglicare and other agencies. The 'cure' of that many 'souls' carries with it a certain weight that is apt to become depleting if not carefully managed. In this period, we also engaged (quite rightly) with a great many victims of sexual and other abuses. These atrocities, by and large, were perpetrated by leaders within our own communities of faith. A travesty. With my team of professional and godly leaders, I have met with individuals and their families and have carefully listened to their stories; generally in very great (and galling) detail. I can report that our redress and pastoral care programmes have brought much honour to Christ and healing to some. That said, the sheer volume of cases and the deep pain associated with every story takes its toll on those who are seeking to bring wholeness and justice. I do hope that many of you will join me for a Service of Lament and Repentance in our Cathedral on Sunday  February 11th at 3.00pm.
It is also true to say that Jane and I feel that in our tenth year, we've done that which the Lord called us to do: to serve alongside remarkably gifted and able women and men who are committed to seeing the love of Jesus transform individuals and communities. That in itself has been a great highlight.
Other memorable events and ministries have been the 2013 Walk with The Cross through regional NSW and the ACT; the five Bishops Lay Ministry Conventions (Canberra [1], Goulburn [3], Wagga Wagga [1]); my annual open air evangelistic service in Belmore Park, Goulburn, where people are invited to publicly give their lives to Christ (and do); our Synods where we gather for fellowship, grace-filled debate, prayer, worship and legislation; inductions, parish visits and ordinations (around 100 or so); serving as Priest for the congregations of F5 and West Goulburn.
Though we are retiring from episcopal ministry we are (to quote the Reverend John Jenner) 'refiring' back into full-time parish ministry. I'll be inducted as Priest, St Michael's, Vaucluse and Rose Bay, on Saturday May 5th at 4.30pm. And my formal farewell from this Diocese is Saturday March 31st at 11.00am. This is a 'Laying Up Of The Pastoral Staff' event. You are all very welcome. Lent is fast approaching. In this lead up to Passiontide, I do enjoin you once again to be thankful to God for his  remarkable grace in sending a Saviour, our Lord Jesus. As the redeemed people of God we have been called to be beacons and conduits of light, mercy and hope. May God, by his Spirit, through you, continue in bringing the transforming love of Jesus to our homes, communities, schools, businesses and nation. Hallelujah!
Much love in Christ,
+Stuart and Jane
February 2018